Our Power Wash Equipment Engineering
We strive to stay in front of mechanical technologies that will provide the best performing product in the field. We have found that our customers in the field needed a power plant that would provide consistent flow, pressure, the proper cleaning nozzle to match their equipment allowing them to clean any surface. This is the reason we have chosen the Vanguard motor made by Toyota, General Pumps, and Custom Drilled Nozzle Kits. With thousands of units in the field we have the experience and knowledge to ensure you get the highest quality equipment that will get the job done safely and efficiently.
Our equipment has exclusively engineered safety features which include high limit heat control, thermostat shut-off, and trigger control shut-off systems. The master relief valve is commonly installed on the heat lines on other brands of equipment, our equipment has been exclusively engineered as a cold water release on master relief valve to protect the operator. Further, our heated high pressure water lines are wrapped with MSHA/OSHA approved safety blow-out liner installed in the case of an on-board hose failure to catch heated water and prevent possible burns or injury.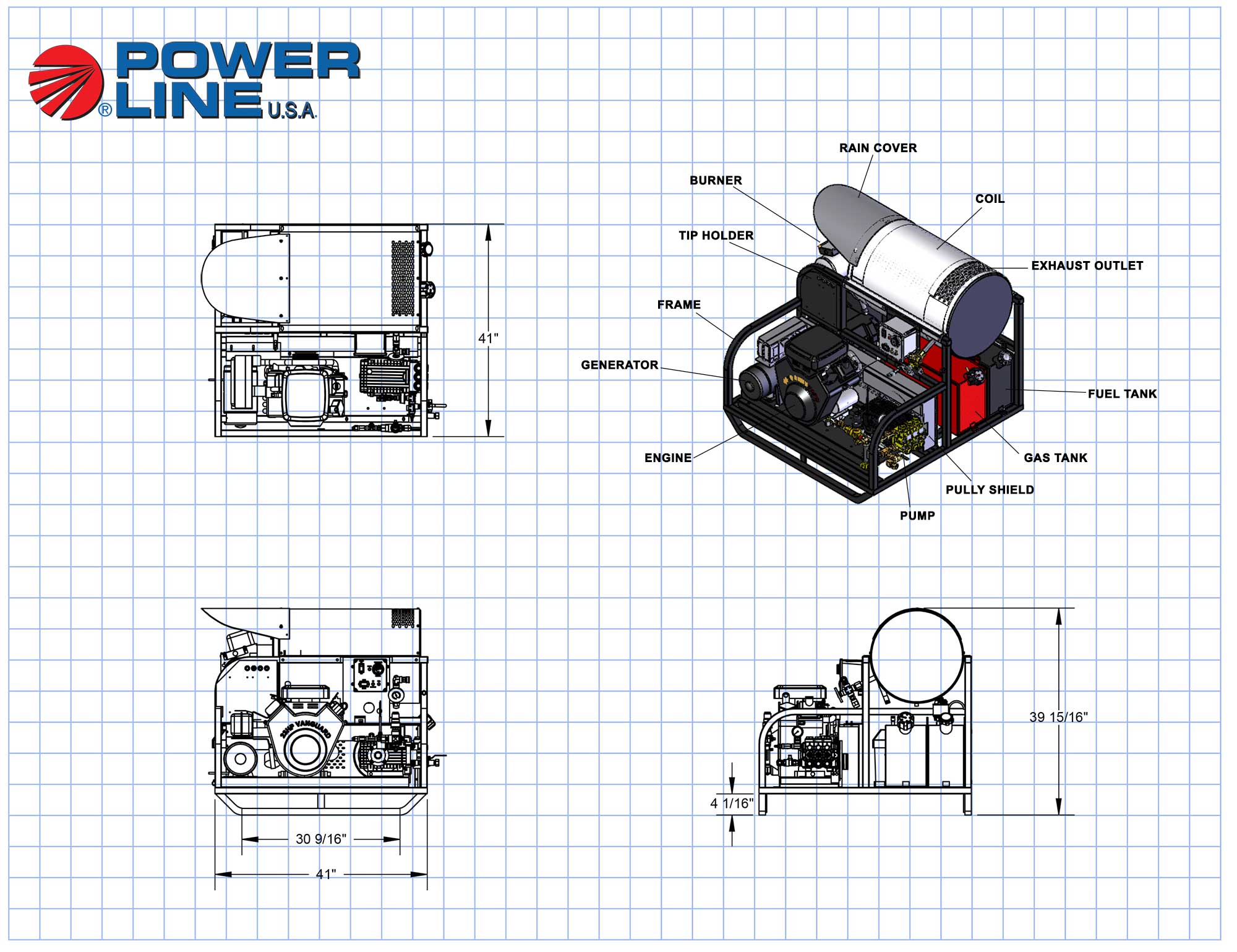 Exclusive Engineering Features
1. DUAL FILTER INTAKE SYSTEM: We pre-plumb the pump intake so you can draw water from a tank or garden hose, and we include a dual filter system one 80 mesh and the other 50 mesh to protect the pump. This has proven to dramatically increase the pump life and reduce down time.
2. COMPLETE BELT DRIVEN SYSTEM: All components are belt driven. The pump, generator are Dual-V-Belt Driven. Belt driven reduces vibration and allows the pump to run at ½ RPM. This extends operational life. The other units on the market are mainly gear driven – we build only belt drive units – they run smoother with less vibration and they are definitely easier to service. If a pump / engine goes out you don't have to replace both components.
3. PUMP SAVER SYSTEM: We also engineer systems with our "pump saver system" – that when trigger is released the bypass water re-circulates back to water tank. This keeps the head of the pump cool extending its life.
4. HELICAL HEATING COIL (on hot water units): Engineered for maximized heat rise to clean using heat substantially reducing the need for any detergent usage in cleaning.
5. CHEMICAL INJECTION: An exclusive feature that we offer is the chemical injector. This really makes a difference in the quality of the clean job. This is metered off of a 12 gallon tank.
6. QUICK WINTERIZATION SYSTEM: In less than a minute your entire system is ready for winter, or storage. This exclusive system allows you to completely clear lines and flush the system and run a continuous cycle with clean water, or antifreeze.
Power Line Industries — A Green Company


As a green company we have developed extreme environmental engineering on all of our equipment the benefits of which are handed down to our customers and their customers.

1. HELICAL heating coil engineered for maximized heat rise – That is the most energy efficient burner made! – to clean using heat substantially reducing the need for any detergent usage in cleaning.
2. The need for recycling/repair is minimized through the manufacturing of power wash units with a proven life time service cycle of 7-10 years vs commonly found 3-5 years of service from competing brands