Pressure Washer Trailers for Sale
Gas Powered • Hot or Cold Water • Single and Tandem Axle Pressure Washer Trailer Systems
Pressure Washer Trailers manufactured by Power Line Industries feature the top selling HD23 Tandem Axle Power Wash System. All trailer power washers are professionally mounted on a custom power wash trailer that is engineered specifically for the Pressure Washer professional and are turn-key ready for Professional Power Wash Cleaning.
Our trailer power washers are engineered for the Professional Power Washer – who demand a Quality Built – Super Dependable – trailer pressure washer systems at Factory Direct Pricing.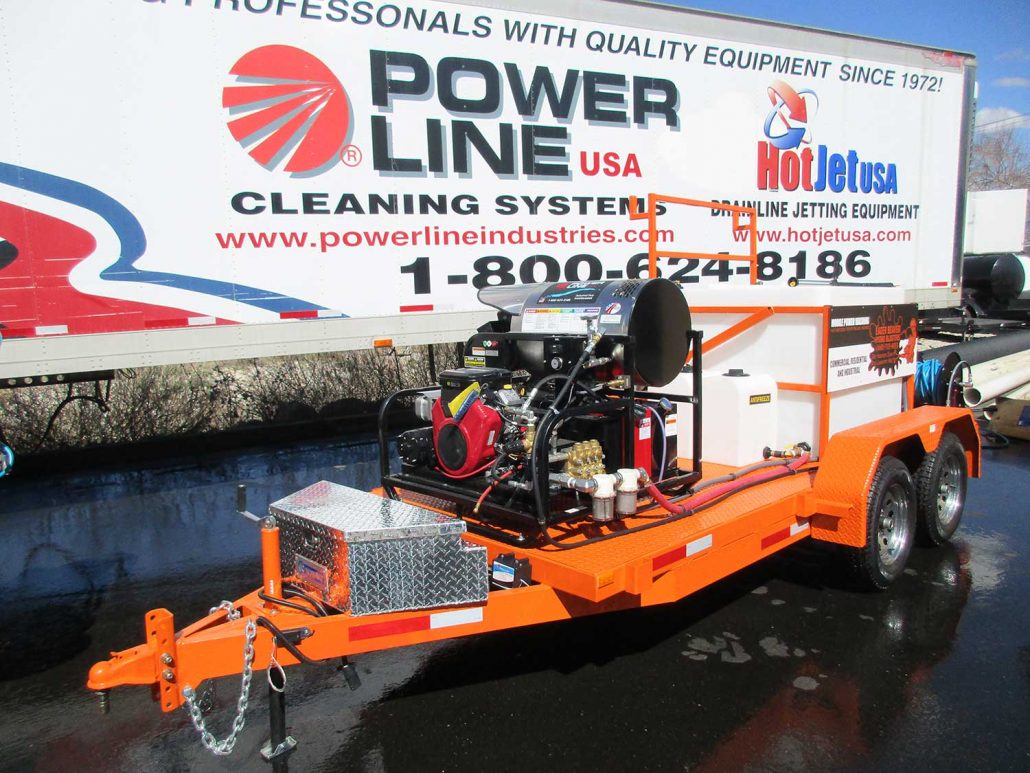 QUALITY YOU CAN COUNT ON!
For over 3 decades Professionals have counted on our industrial grade pressure washer trailers to clean in the harshest environments . . . . Oil Field Service, Mining, Agriculture, Construction, Trucking, etc. The Professional Contract Cleaning Industry – even the US Army – counts on our trailer power washer's legendary performance, extreme value, and bullet proof engineering. Our trailer power washers are in service throughout the world.
Backed by the Best Warranty power wash trailer system in the Industry and a Nationwide Service Component Support.
QUALITY  ●  VALUE  ●  PERFORMANCE
UNBEATABLE SERVICE
Whether you need to power wash equipment, trains, buildings, concrete, a fleet of trucks, graffiti, or shopping malls, we can custom engineer a power wash trailer system for your specific application.
We also manufacture complete environmental compliance trailer power washer systems.
HUGE INVENTORY  ●  SHIP ANYWHERE
PERSONALIZED SERVICE
All of our trailer power washers come complete – either as a base package or upgraded to include our  "Upgrade Monster Accessory Package" for the complete power wash trailer system.
We earn your business by combining Power Line's legendary power wash trailer systems with our personalized service, factory direct pricing, then backing the power wash trailer systems with the Best Warranty in the Industry!
Your Choice of Single Axle or Tandem Axle Pressure Washer Trailer Units Include:
Standard Features

Upgrades

Exclusive Engineering Designs

Stainless Steel Housing Covers
6 Bolt EZ-Out Coil System
EZ To Service Layout (Engine Oil Changes Fuel Filter Pump Oil Changes)

See Limited Time $2,700 Accessory Package Upgrade Package Available

Motor

YOUR CHOICE

Trailer/Unit Specifications

Enamel
2 Hose Reels
Water Tank – 200 Gal. (Single Axle) 330 Gal (Tandem Axle)
Antifreeze and Soap Tank
100″ H.P. Hose
100″ Commercial Grade Garden Hose
Stainless Steel Bolts And Nuts

12′ Tandem Axle
Metal Deck Diamond Plate
Stainless Steel Hose Reels –

Optional

330 Gallon Lifetime Water Tank

Drive Pump

Dual Belt Drive
General Triplex Pump
Steel Pulleys And Bushings

Plumbing

J/C Fittings
Trigger Control
50 Hose / 4 Quick Nozzles

Burner

Thermostat Heat Control
Wayne Burner System
Schedule 80 Coil
Cross-Link Poly Fuel Tanks
Generator Powered

Frame

Powder Coated 1 ¼ Frame
Modular Platform Engineering
Shock Mounted Powerplate
Stainless Steel Outer Housing

Safety Systems

Trigger Gun Control
High Limit Burner Control
Flow Switch Burner Control
Pressure Relief
CALL FOR YOUR SPECIAL INTERNET PRICING TODAY!!!
For Sales Dial
1-800-750-7841
Nationwide 8-5 M.S.T
Call us with your exact application and let our 30+ years of experience help you decide which pressure washer will best fit your needs!
Pressure Washer Trailer systems manufactured by Power Line Industries have set the standard in industrial duty power wash trailers. We ship power wash trailer systems worldwide and have built over 5000 custom hot water power wash trailers. Our goal is to provide the highest quality power wash systems whether they are enclosed power washers, trailer mounted pressure washers, either cold or hot water power wash trailers – we can custom build nearly any size power wash trailer system and ship the pressure wash trailer out in a matter of days – not weeks – to any location.